Place: Taipei, Taiwan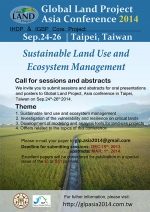 GLP invites you to submit sessions and abstracts for oral presentations and posters to the 2014 GLP Asia Conference – Sustainable Land Use and Ecosystem Management, which will be held in Taipei, Taiwan on September 24th – 26th 2014.

Themes of the conference:
1. Sustainable land use and ecosystem management
2. Investigation of the vulnerability and resilience on critical lands
3. Development of modeling and analysis tools for land-use projects
4. Others related to the topics of this conference.